We are not expecting any significant design changes this year, but the camera bumps for the iPhone 14 and iPhone 14 Pro could get thicker, with the Pro's bump growing in size more notably. Apple is expected to introduce new color options, perhaps adding a purple shade.
The iPhone 14 Pro models may feature a titanium frame instead of a stainless steel frame, and redesigned speaker and microphone grilles are a possibility. Apple could also use a new vapor chamber thermal system that will keep the iPhone cooler to minimize the impact of faster chips and 5G connectivity.
New iPhones always include camera improvements, and the iPhone 14 is no exception. There will be improvements to the Ultra Wide camera, and there's a possibility that Apple will introduce a "periscope" zoom lens that allows for much greater optical zoom, but it's still not yet clear if this will come in 2022 or 2023. The Pro iPhone models are expected to get 48-megapixel cameras and 8K video recording capabilities, but these features will not be available on the standard iPhone 14 models.
Rumors suggest that the iPhone 14 models are likely to continue to use the same A15 chip that was introduced in the iPhone 13 series, while the iPhone 14 Pro models receive an updated A16 chip. This would mark the first time that the Pro iPhone models get a faster chip, with Apple perhaps going this route to cut down on costs and also because of ongoing supply issues.
Body Design
The iPhone 14 models are expected to look like the iPhone 13 models with the same flat-edged design. Leaker Jon Prosser claimed that Apple would introduce a thicker chassis with no rear camera bump and round volume buttons, but his information appears to have been incorrect based on later rumors and part leaks.
Alleged renders depicting the iPhone 14 models surfaced in March, and the renders suggest that the standard iPhone 14 models will have no design changes, featuring the same look as the iPhone 13 models. There will be a standard notch along with the exact same camera bump at the back with the diagonal camera layout.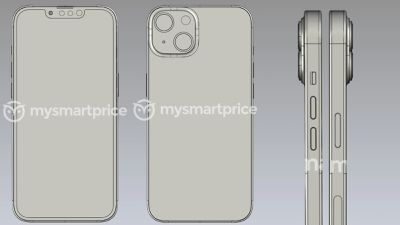 A photo that allegedly depicts molds of Apple's upcoming iPhone 14 models surfaced in April, giving us a clearer look at the sizes of the upcoming devices. The molds are likely designed for use in case production, but they do appear to be in line with the rumors that we've heard about the iPhone 14 so far.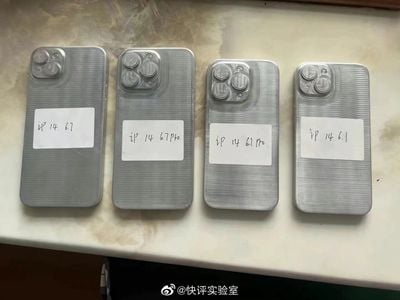 There is no iPhone 14 mini, with Apple offering two 6.1-inch iPhones and two 6.7-inch iPhones. As rumored, the camera bumps are about five percent larger, and cases designed for the iPhone 13 models are unlikely to fit the iPhone 14 models because of the size increase.
A set of cases for the iPhone 14 models provide a closer look at the size differences between the models, and the different camera cutouts that are expected. The cases are in line with all of the rumors that we've heard, depicting 6.1 and 6.7-inch sizes and larger camera cutouts for the Pro models with triple-lens camera setups.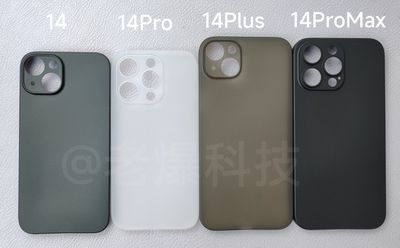 Size Options
There will be no 5.4-inch iPhone in 2022 because Apple is doing away with the "mini" line following lackluster sales. The iPhone 13 mini will be the last of the mini phones, and going forward, Apple is expected to focus on larger-sized iPhones.
We're expecting a 6.1-inch iPhone 14, a 6.1-inch iPhone 14 Pro, a 6.7-inch iPhone 14 Max, and a 6.7-inch iPhone 14 Pro Max, with the larger 6.7-inch iPhone replacing the mini model.
Colors
The iPhone 14 and iPhone 14 Pro could come in purple, according to an unverified rumor. Though unconfirmed the rumor suggests that both the iPhone 14 and iPhone 14 Pro models will be available in a purple shade that has a unique finish that shifts tone based on lighting conditions.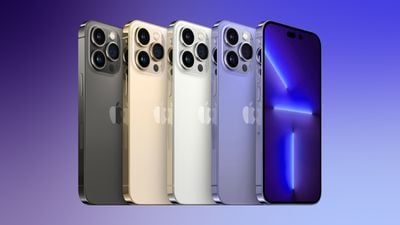 Apple has used the same color for the standard iPhone and Pro models before, but typically in different shades, so that could be what we see in 2022 if the purple rumor is accurate. The iPhone 14 and 14 Max are rumored to be available in black, white, blue, red, and purple, while the iPhone 14 Pro and Pro Max will allegedly come in graphite (possibly midnight), gold (possibly starlight), silver, and purple.
Titanium
Apple's upcoming iPhone 14 models are also expected to come with a high-end titanium alloy chassis design, according an investors report from JP Morgan Chase. Apple has used titanium for the Apple Watch, but this would mark the first time that the material has been used for an iPhone.
Titanium is more scratch resistant and it's stronger than both steel and aluminum, plus it's more corrosion resistant.
Cooling
Starting in 2022, high-end iPhone models are likely to adopt a vapor chamber thermal system, which Apple is said to be "aggressively testing." The VC thermal system will be required for the high-end iPhones due to their stronger computing power and faster 5G connection speeds. There are already smartphones from companies like Samsung, Razer, and LG that use vapor chamber cooling technology, which is used to keep a device cooler when it is under heavy stress.
It is unclear if the vapor chamber thermal system will meet Apple's high requirements, but Apple is working on improving it and high-end models could adopt it in the near future.
Lightning Port
There have been rumors that Apple is aiming to remove the Lightning port from the iPhone for a portless design with charging done over MagSafe, but it's not clear if that technology will be introduced with the 2022 iPhone models.
At least some of the iPhones coming will continue to feature a Lightning port.
ALSO SEE :
Dummy Models and Part Leaks
MacRumors acquired some iPhone 14 dummy models designed for case makers that provide a look at what we can expect for the iPhone 14 and 14 Pro models.
Because there's a lot of money in having a case ready for a new ‌iPhone‌ ahead of launch, dummy models are often quite accurate, so these fake ‌iPhone 14‌ devices give us a clear picture of what we can expect to see.
The iPhone 14 Pro Max, however, will be similar in size to the iPhone 13 Pro Max, but the increased size of the camera bump will prevent an iPhone 13 Pro Max case from fitting an iPhone 14 Pro Max.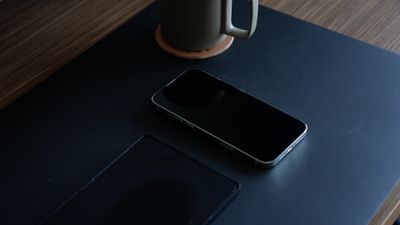 Design wise, the iPhone 14 models are going to look a lot like the iPhone 13 models, but with a notable exception – there's not going to be an iPhone 14 mini. Instead, Apple is making two 6.1-inch iPhones (iPhone 14 and iPhone 14 Pro), along with two 6.7-inch iPhones (iPhone 14 Max and iPhone 14 Pro Max).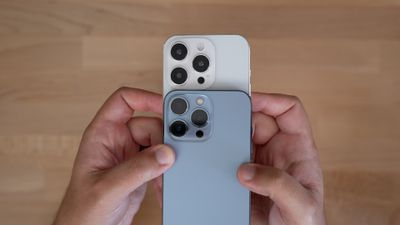 iPhone 13 Pro (blue) vs. iPhone 14 Pro dummy model
For the Pro models, the notch is going to be replaced with hole and pill-shaped cutouts for the camera and the Face ID equipment. The hole and pill design is not much different from a notch, but it will free up some space and make the front cameras less obtrusive. Standard iPhone 14 models will continue to have a notch.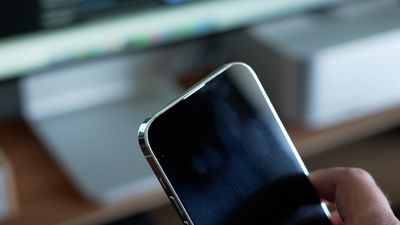 We know there are some minor changes to the sizes of the devices, but when comparing a dummy unit to the iPhone 13 lineup in person, it's difficult to tell. There are tiny changes to the screen sizes of the iPhone 14 Pro models, but in day to day use, you're not going to notice.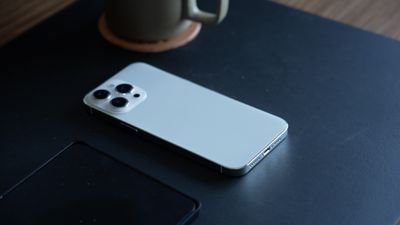 Camera bumps are going to be a bit thicker and wider on the Pro models to accommodate the 48-megapixel camera that Apple is adding. Standard iPhone 14 models will not see many design changes.
Front glass panels that are allegedly for the iPhone 14 models leaked in April, with the iPhone 14 Pro and Pro Max versions depicting the pill-shaped and hole cutouts that will replace the notch on those models. The standard iPhone 14 and 14 Max displays continue to feature notches.>
The iPhone 14 Pro and Pro Max panels also feature slightly thinner bezels and a taller aspect ratio, and all of the display panels are in line with the rumors that we've heard so far.
Camera Technology
All of the 2022 iPhones could see improvements to the Ultra Wide camera, and the iPhone 14 Pro models will see significant improvements to the wide-angle camera and updates to the telephoto lens. Apple analyst Ming-Chi Kuo believes that the 2022 Pro iPhone models will feature a 48-megapixel Wide camera, which would be a major improvement over the current 12-megapixel camera, and 8K video recording capabilities.
The 48-megapixel camera in the iPhone 14 Pro models will also be able to take 12-megapixel shots, likely through a process known as pixel-binning. Pixel binning merges data from multiple smaller pixels on the camera's image sensor into one "super-pixel" for improved low-light sensitivity.
With this feature, the iPhone 14 Pro models may be able to take full 48-megapixel photos in situations with good lighting, but when lighting is poor, it will use the pixel binning process for a higher-quality 12-megapixel photo that takes advantage of the 48-megapixel lens.
Kuo believes that the 8K video recording feature will allow iPhone-recorded videos displayed on an 8K display or TV to provide "a better user experience," and that this resolution will allow the iPhone to create videos and images more suitable for augmented and mixed reality devices like the AR/VR headset that Apple has in development. 8K video recording and the 48-megapixel Wide lens will be limited to the Pro models, with the standard iPhone 14 models receiving a more modest camera setup.
As for the front camera technology, all of the iPhone 14 models coming this year are expected to feature an upgraded front lens with a wider f/1.9 aperture and autofocus capabilities. A wider aperture would let more light to pass through the lens to reach the sensor for sharper, crisper photos and improved depth of field. The autofocus improvements would improve focus adjustments during video calls.
A16 Chip
New iterations of the iPhone typically come with an updated A-series chip, but Apple might deviate from standard operating procedure this year. According to Apple analyst Ming-Chi Kuo, only the iPhone 14 Pro models will get a new and faster A16 chip.
Kuo says that the standard iPhone 14 models will continue to use the same A15 Bionic that's in the iPhone 13 models, marking a significant differentiation between the Pro and non-Pro iPhones in 2022, and the rumor has been backed up by other sources.
According to Kuo, the A16 chip may only be a minor upgrade over the A15 chip. The chip is expected to be built on the same N5P process used for the A15 chip, which limits improvements.
Next-generation N3 and N4P fabrication processes will not be available for mass production until 2023. Apple chip supplier TSMC has developed a new N4 process, but Kuo says that it has no meaningful advantages over N5P, so Apple will stick to N5P for the A16. The upgrade to the A16 is more for marketing than notable improvement, according to Kuo.
Though the iPhone 14 is expected to use the same A15 Bionic chip that's in the iPhone 13 models, leaker ShrimpApplePro has suggested that the new devices will get an "overall performance boost" thanks to an updated cellular modem, a new internal design, and other updates, which could see it offering faster performance.
RAM
According to Ming-Chi Kuo and other sources, both the iPhone 14 and iPhone 14 Pro models will feature 6GB RAM, which is the same amount of RAM available in the iPhone 13 Pro models. This has also been corroborated by Taiwanese research firm TrendForce.
Car Crash Detection
Apple is working on a car crash detection feature for the iPhone and the Apple Watch, which could come out in 2022. It will use sensors like the accelerometer to detect car accidents when they occur by measuring a spike in gravitational force.
When a car crash is detected, the iPhone or the Apple Watch would automatically dial emergency services to get help. Since it's planned for 2022, this could be a feature designed for the iPhone 14 models and the Apple Watch Series 8, though it's not likely to be limited to those devices. It will be an expansion of the Fall Detection feature that's in existing Apple Watch and iPhone models.
Snapdragon X65 Modem
The iPhone 14 models will use the Qualcomm Snapdragon X65 modem, which is the world's first 10 Gigabit 5G modem and antenna system for smartphones.
RF Chip
Taiwan's Economic Daily News has suggested that Apple has ordered 5G radio frequency (RF) chips from TSMC, with Apple using its own technology instead of chips from Samsung.
The chips are allegedly manufactured on TSMC's 6-nanometer process, which offers a smaller package with lower power consumption. This could perhaps lead to better battery life when using 5G technology, along with support for WiFi 6E.
Satellite Connectivity
The Qualcomm Snapdragon X65 enables some satellite connectivity features, and alongside the modem, Apple plans to implement satellite-based emergency features that will let users to send texts in emergency situations and report major emergencies in areas where there is no cellular coverage.
Emergency Message via satellite will allow users to text emergency services and contacts using a satellite network when there is no cellular or WiFi signal available. It will be a new communications protocol alongside SMS and iMessage, and it will feature gray message bubbles. Message length will be restricted.
Another feature will let users report major emergencies like plane crashes and fires using satellite networks. These features are still in development and will launch in 2022 at the earliest.
WiFi 6E
The iPhone 14 is expected to feature WiFi 6E connectivity, according to Apple analyst Ming-Chi Kuo. Kuo says that WiFi 6E will offer the high-speed wireless transmissions necessary for AR and VR experiences, and it is also expected to be used in the mixed reality headset that could come out in 2022.
WiFi 6E takes advantage of the 6GHz band in addition to the 2.4GHz and 5GHz bands to increase bandwidth and cut down on interference, while also offering the performance boost and low latency provided by the WiFi 6 specification.
2TB Storage?
With the iPhone 13 Pro models, Apple added a new 1TB storage tier, and rumors suggest that with the iPhone 14 upgrade, Apple could increase that even further to 2TB. This rumor comes from a source that's not always accurate, however, so it should be viewed with some skepticism until backed up by another more reliable source.
No Physical SIM Slot
The iPhone 14 models may launch without a physical SIM slot, with Apple transitioning to an eSIM-only design. Apple is allegedly advising major U.S. carriers to prepare for the launch of eSIM-only smartphones by 2022, which suggests some iPhone 14 models may be the first to come without a SIM slot.
With the iPhone 13, Apple provided some models without a nano-SIM in the box, with cellular plans instead being able to be activated using eSIM. An eSIM allows for cellular plans to be added to a device without using a nano-SIM.
eSIM functionality is not available in all countries, so iPhones sold in some areas will need to continue to offer a nano-SIM slot. In countries where a SIM-free iPhone is available, it may be optional, with consumers still able to choose a version with a SIM. There are more than 60 countries that support eSIM, with a list available on Apple's website.
iPhone 14 Pricing
The iPhone 14 is expected to be priced starting at $799, which is the starting price for the iPhone 13. Apple does not have plans to increase the cost of the entry-level smartphone in an effort to boost sales and increase demand.
iPhone 14 Launch Date
Apple is expected to introduce the iPhone 14 models at an event that's likely to be held in September 2022, if Apple follows previous launch timelines. Most iPhone events take place during the first or second week of September.
At least one of the iPhone 14 models is three weeks behind schedule because of pandemic-related delays in China, which means that there is potential for one of the upcoming devices to be delayed or in short supply at launch. Rumors have suggested that it is the 6.7-inch iPhone 14 Max that's delayed at the current time, but Apple analyst Ming-Chi Kuo says that Apple has the situation under control and suppliers will work overtime to catch up.
Supply chain issues are expected to have a limited impact on the mass production of the iPhone 14 and iPhone 14 Pro models, according to Kuo. LG Display, for example, has had problems with iPhone 14 display panels, but Samsung Display and BOE can fill the supply gap.
Rumors indicate that Apple is evaluating iPhone 14 OLED displays as of June 20 to get ready for mass production. Mass production on the component is set to begin between July and August, and component shipments for other parts began in June.Foxconn is ramping up hiring in preparation for iPhone 14 production, offering bonuses to workers who join the company and stay on for at least four months.
There are allegedly quality control issues with the camera lenses designed for the iPhone 14 and the iPhone 14 Pro, but Apple analyst Ming-Chi Kuo does not expect this problem to impact the iPhone 14 launch. Apple is mitigating the impact by reallocating iPhone 14 camera orders to another supplier.